US Hwy 136 Closed from Webster to Elm Street for Hotel Garber Project
US Hwy 136 Closed from Webster to Elm Street for Hotel Garber Project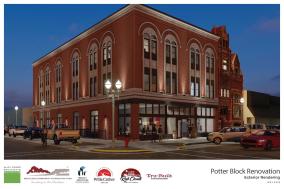 *******PUBLIC SERVICE ANNOUNCEMENT*******

US HWY 136 ROAD CLOSURE

The Red Cloud Hotel, LLC, the City of Red Cloud, and Tru-Built Construction would like the public to know that US Hwy 136 will be closed to thru traffic from Webster Street to Elm Street starting as soon as August 16th. This closure is anticipated to last at least 3 weeks. The closure is necessary in order to ensure public safety and to accommodate work being performed on the future site of the Hotel Garber.
Detour routes will be marked and US Hwy 136 traffic will be routed through 3rd Avenue and Elm Street south and east of the United States Post Office. We apologize for any inconvenience this road closure may cause.

Tru-Built Construction will need room for a large crane, 5 semi loads of trusses and framing materials, and will also need to maneuver a large telehandler to get materials on and off of the Hotel Garber roof. Framing for the 3rd floor of the building will commence shortly.