10 Great Ways to Experience Red Cloud!
10 Great Ways to Experience Red Cloud!

If you dream of escaping the urban crush for the serenity of a small town, then Red Cloud is the perfect destination to spend a quiet weekend. Red Cloud—population 962—is located in the heart of south-central Nebraska, 6 miles north of the Kansas border. With its quaint lodging options, rich history, cultural programs, historic attractions, and recreational activities, there is never a shortage of fun and worthwhile things to do while visiting the community. For more information about visiting Red Cloud, click on the links and pictures below or give us a call at 402-746-4065 or contact the Willa Cather Foundation at 402-746-2653.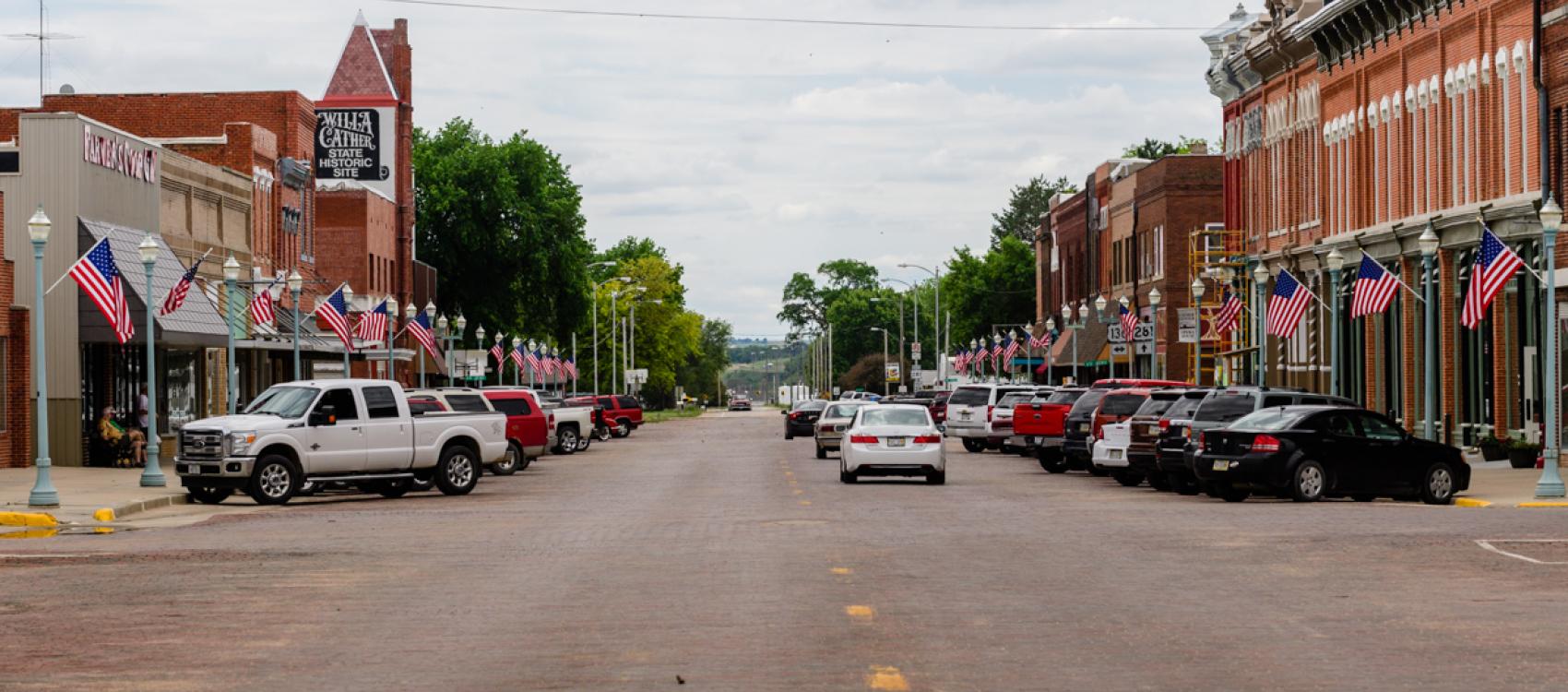 Our brick streets and the architectural charm of the downtown shopping district are two of the things visitors love most about Red Cloud. You can walk in the footsteps of Willa Cather and learn more about Nebraska's most notable former resident by visiting the National Willa Cather Center (see below). You can also take a walk through history thanks to the work of a local historian whose Walk Red Cloud project features QR codes that link to a full history of most areas of downtown. When you're finished immersing yourself in Red Cloud's cultural history, take a break with a coffee or specialty drink and boutique shopping at The Corner Nook or Village Pharmacy. You can also try out Nebraska craft beers, a great selection of wine and classic cocktails or even catch a concert at On the Brix. You can even get locally produced honey at Abundant Life Honey and a quick workout at Red Cloud Athletic Club!
Art enthusiasts can check out galleries at the Red Cloud Opera House, the back stairwell of the National Willa Cather Center, and artist Mark Dahle's Gallery, located in several downtown bays at 333 N. Webster St. Dahle's Gallery is set to open to the public in Fall 2022 but many works are visible by walking downtown.
When you need a bite to eat, check out the daily specials and fantastic pizza at Fat Fox's food truck or stop in for a burger, beer, or amazing street tacos at Juan's Bar & Grill. If you're in the mood for a steak or prime rib (Thursdays only) we strongly suggest stopping at The Palace Lounge which has been serving meals and drinks for nearly half a century. Hometown Market, Red Cloud's locally owned grocer, has all you need if you're staying at a local B&B and want to prepare your own food-they can also cater your visit with advance notice. Twisted Petal Flower Shop specializes in floral products, but will add a bakery in Fall 2022! During certain times of the year, you can bowl and eat at Knock 'Em Over Alley. Just down the road in Guide Rock, Deano's Bar & Grill is a favorite among many locals. Click here for a full list of places to shop in Red Cloud!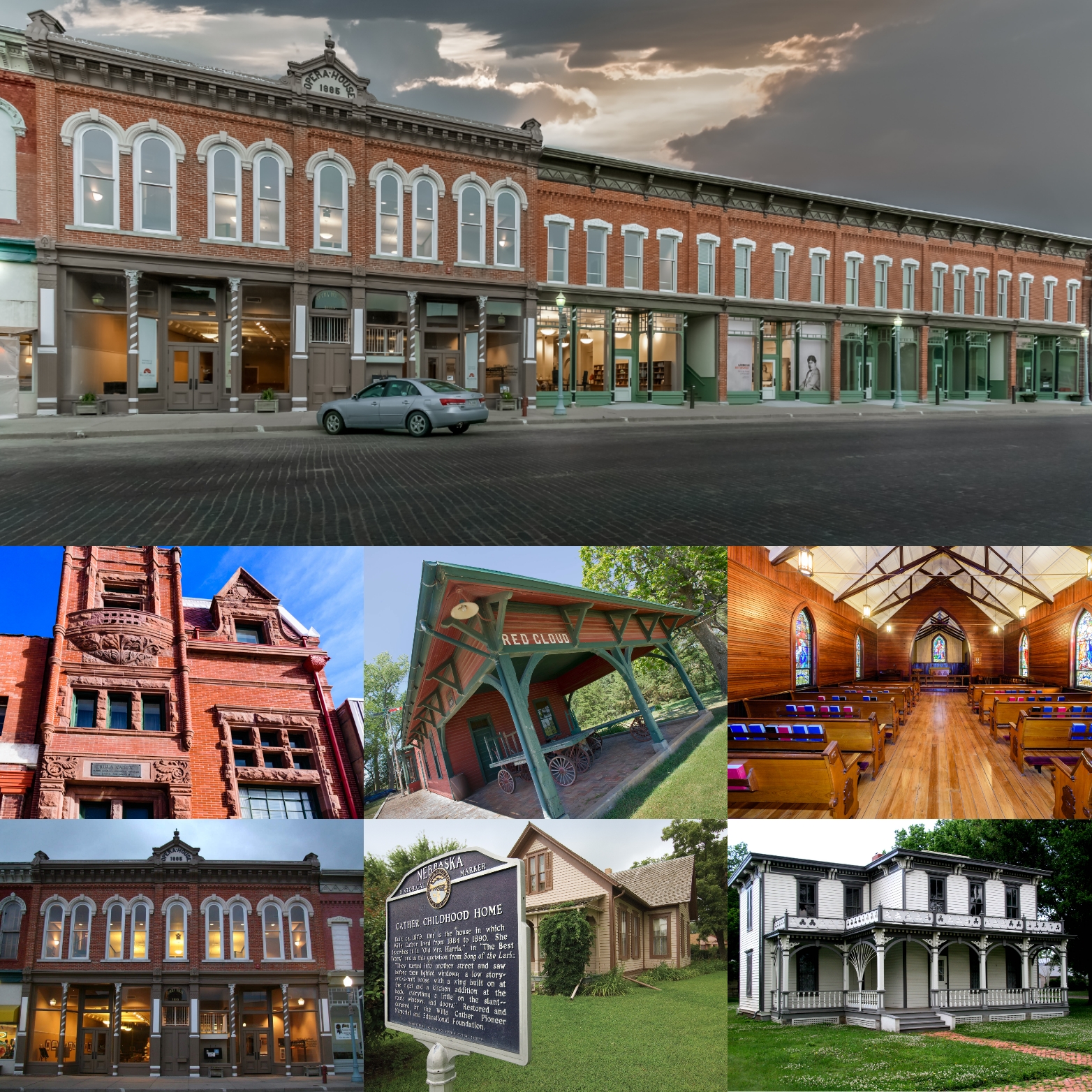 In 2017, the National Willa Cather Center opened as an arts and cultural center that serves as a living memorial to renowned writer, Willa Cather. Located in Cather's childhood hometown of Red Cloud, Nebraska, the Center provides almost 20,000 square feet of space that includes a public museum, archive, research center, classroom, bookstore, art gallery, and performing arts center. The Center occupies Red Cloud's historic "Moon Block," an 1887 structure that was fully restored and given new life as the National Willa Cather Center.
What you'll experience: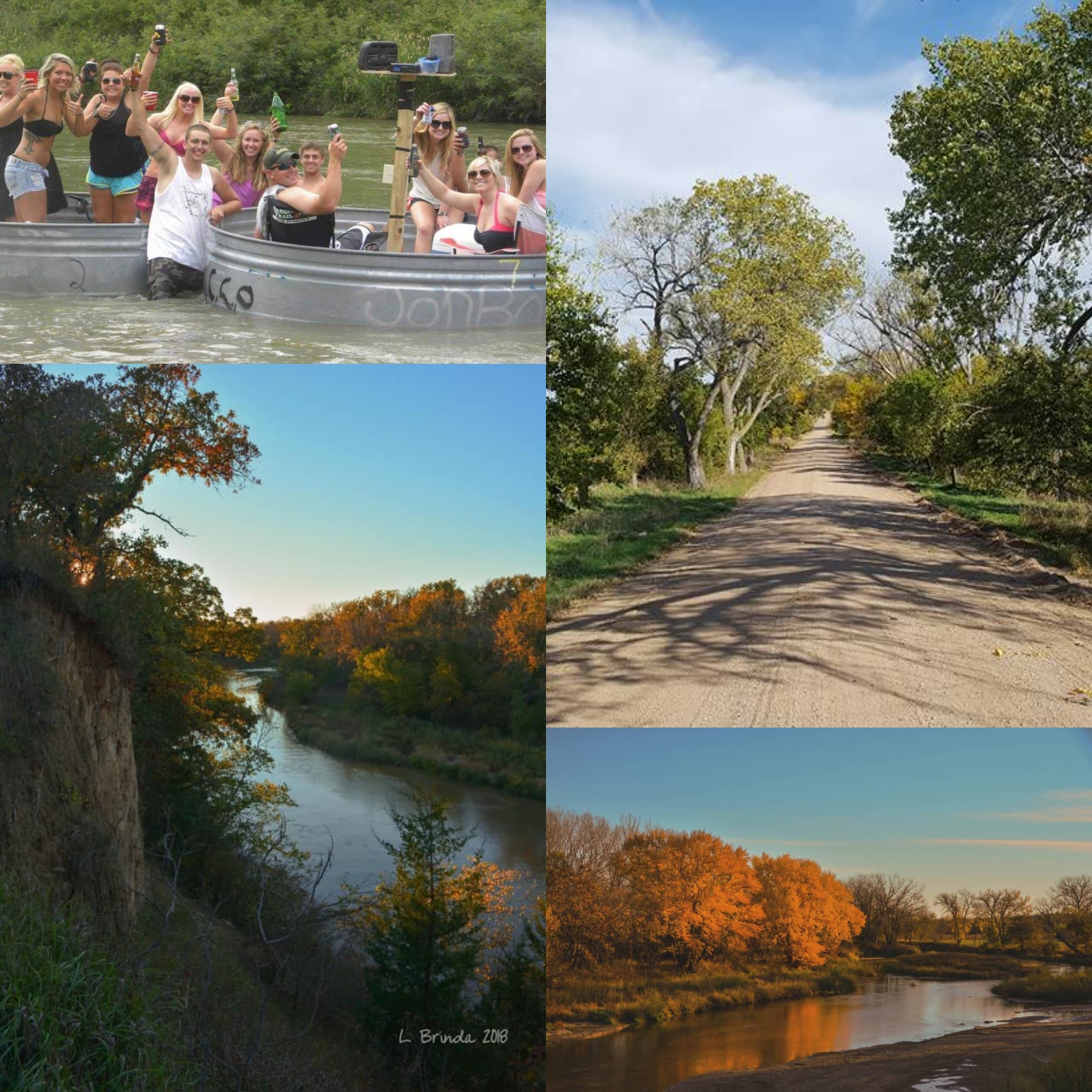 The Republican River is an ideal location for viewing wildlife. Species include eagle, turkey, upland birds, deer, and bobcat. The chalk cliffs are a naturally occurring geological feature, exposed by the action of the Republican River. Picturesque hills adorn the south side of the river and many great camping, hunting, and fishing possibilities are available. It's also a launching point for a lot of fun, as the river is easy to float down during the summer months--locals love to go canoeing and tubing. In early July, the Cowles American Legion hosts the Republican River Stock Tank Float.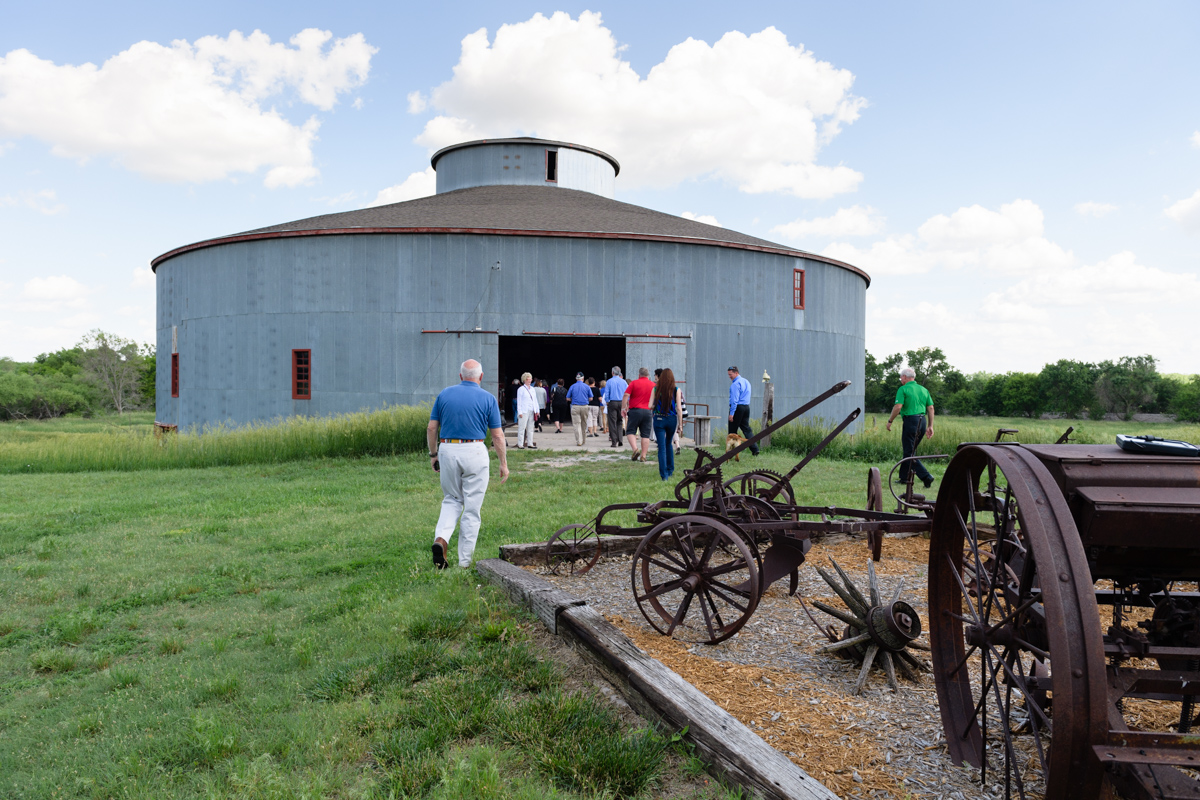 The Starke Round Barn is a historic and engineering marvel. More than one hundred years old, the barn is massive in size but is held together without nails or pegs of any kind. Measuring 130 feet in diameter and three stories in height, the structure is constructed with balloon framing and heavy timber supports. The Starke Round Barn is the state's largest and one of the largest in the nation--it is the largest one built for purely agricultural purposes. This extraordinary barn was placed on the National Register of Historic Places in April 1972. Tours are available by appointment only.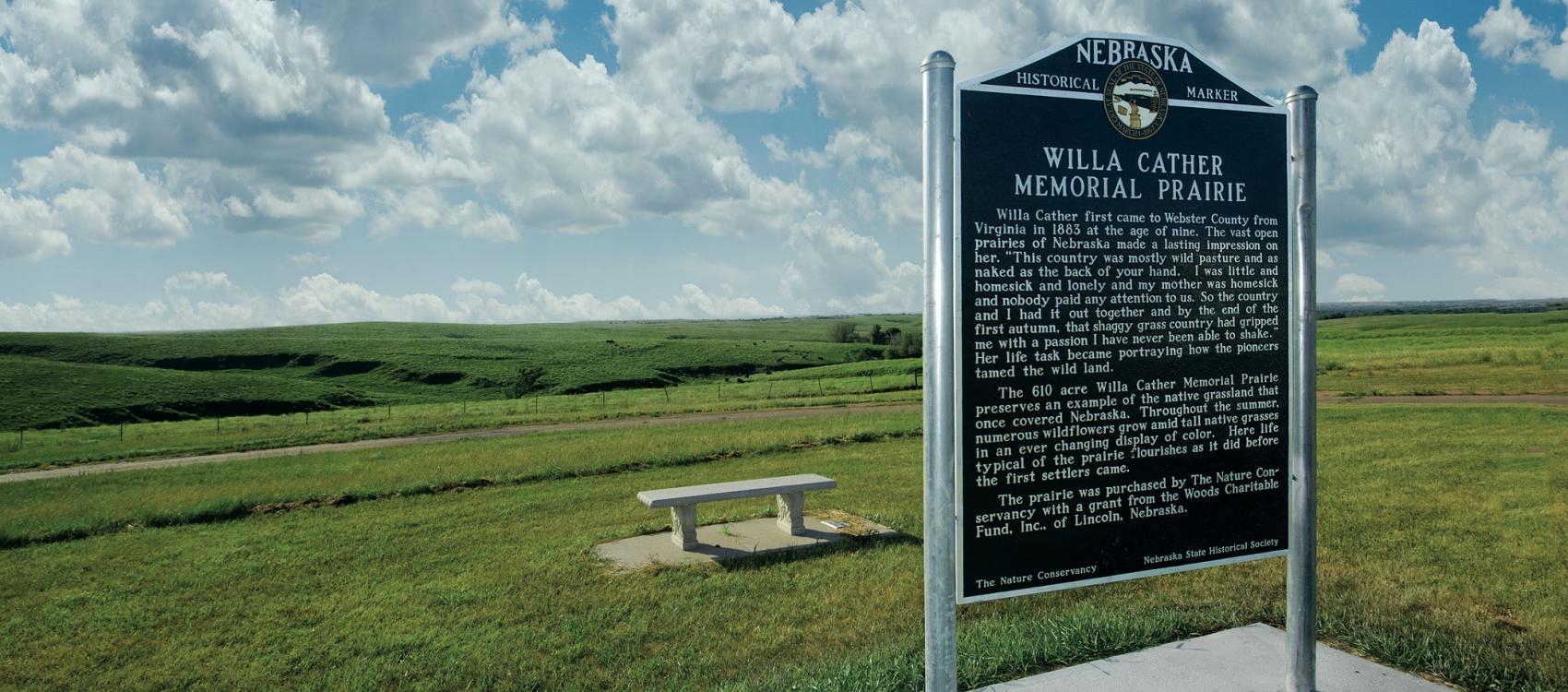 Located along US Hwy 281 right on the Kansas border, The Willa Cather Memorial Prairie is a botanical treasure consisting of 612 acres of never-been-plowed native prairie. The Willa Cather Foundation is working to return this land to its 19th century conditions, a time before the encroachment of man and foreign plant species. Recently, 1,147 acres of prairie across the highway was placed into a conservation easement, meaning there will now be 1,759 acres of viewshed for visitors to enjoy in perpetuity. The rugged land south of the Republican River is perfect for stargazing and birding.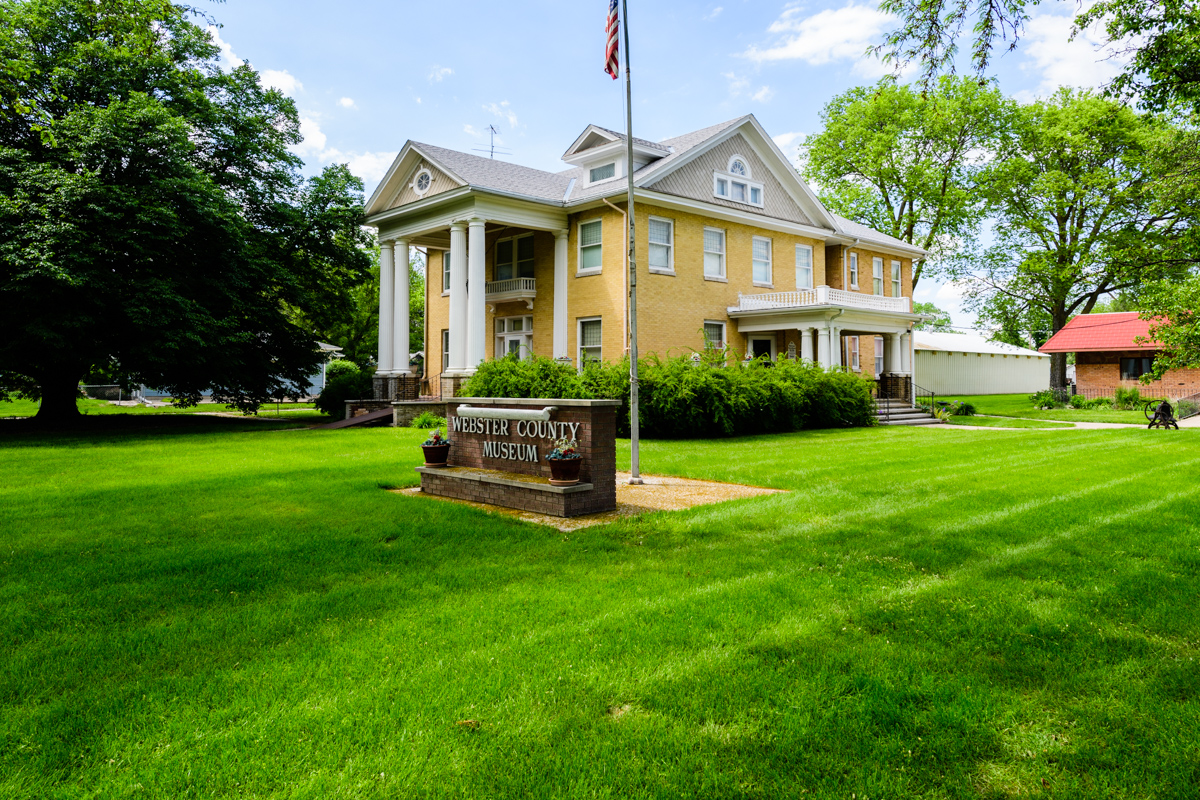 Housed in a 1909 classic revival style brick mansion, the Webster County Historical Museum is a beautiful landmark and an outstanding resource for learning about the area's rich pioneering and agricultural history. The four floors of the museum bring to life the early settlers of Webster County. It is a treasure trove of information about local families living in the Red Cloud and Guide Rock areas during the late 1800s and early 1900s. Items include books, diaries, Bibles, hymnals, paintings, clothing, and furniture. There are also schoolbooks and desks from the first school house in Webster County, which was opened in Guide Rock in 1867. Open from April through October.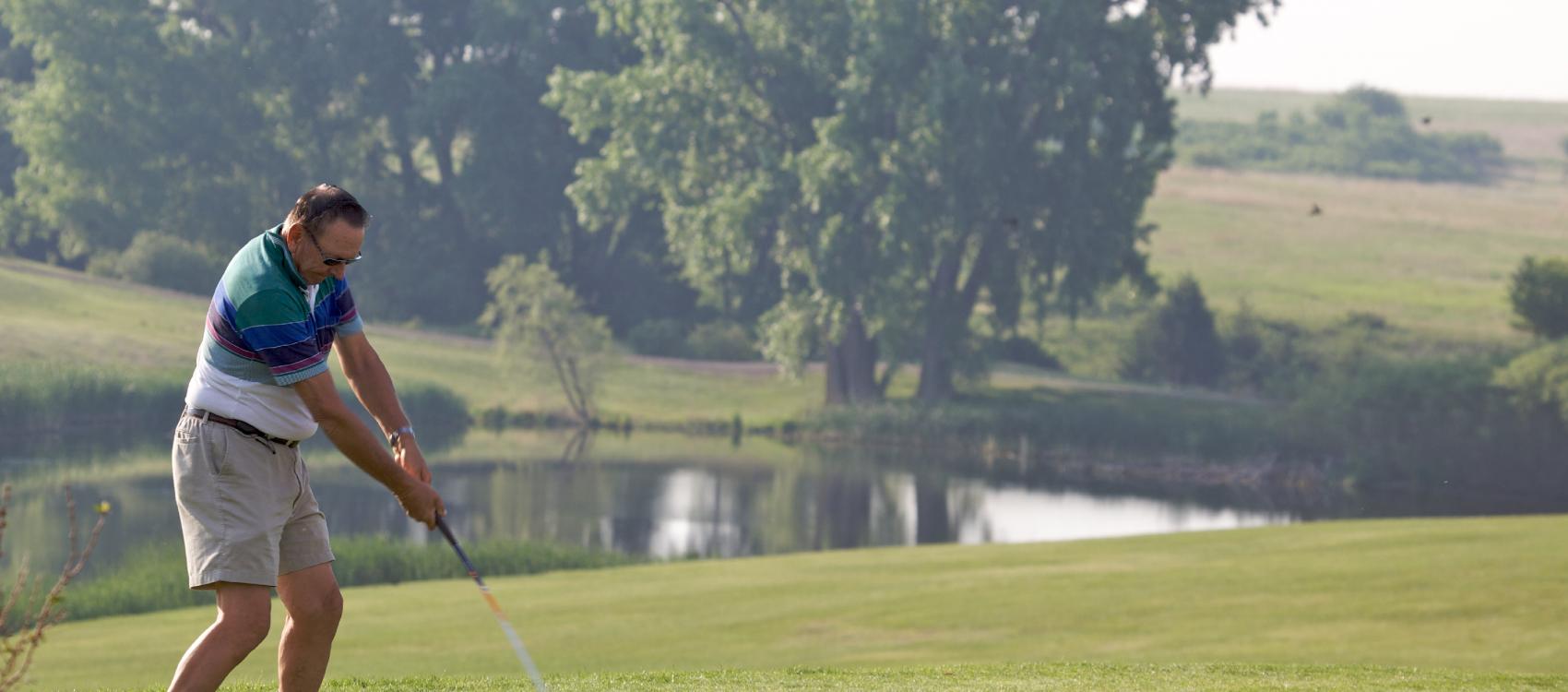 Our community is proud to have one of the best 9-hole public golf courses in Nebraska. Designed by PGA Tour Pro Harry Obitz in 1988, the course boasts elevated greens for quick play after a hard rain. It has a driving range and putting green and offers cart rental and a full clubhouse bar. The Red Cloud Golf Course is fun for players of all levels. Open year round. Located 2 miles east and a ½ mile north of Red Cloud.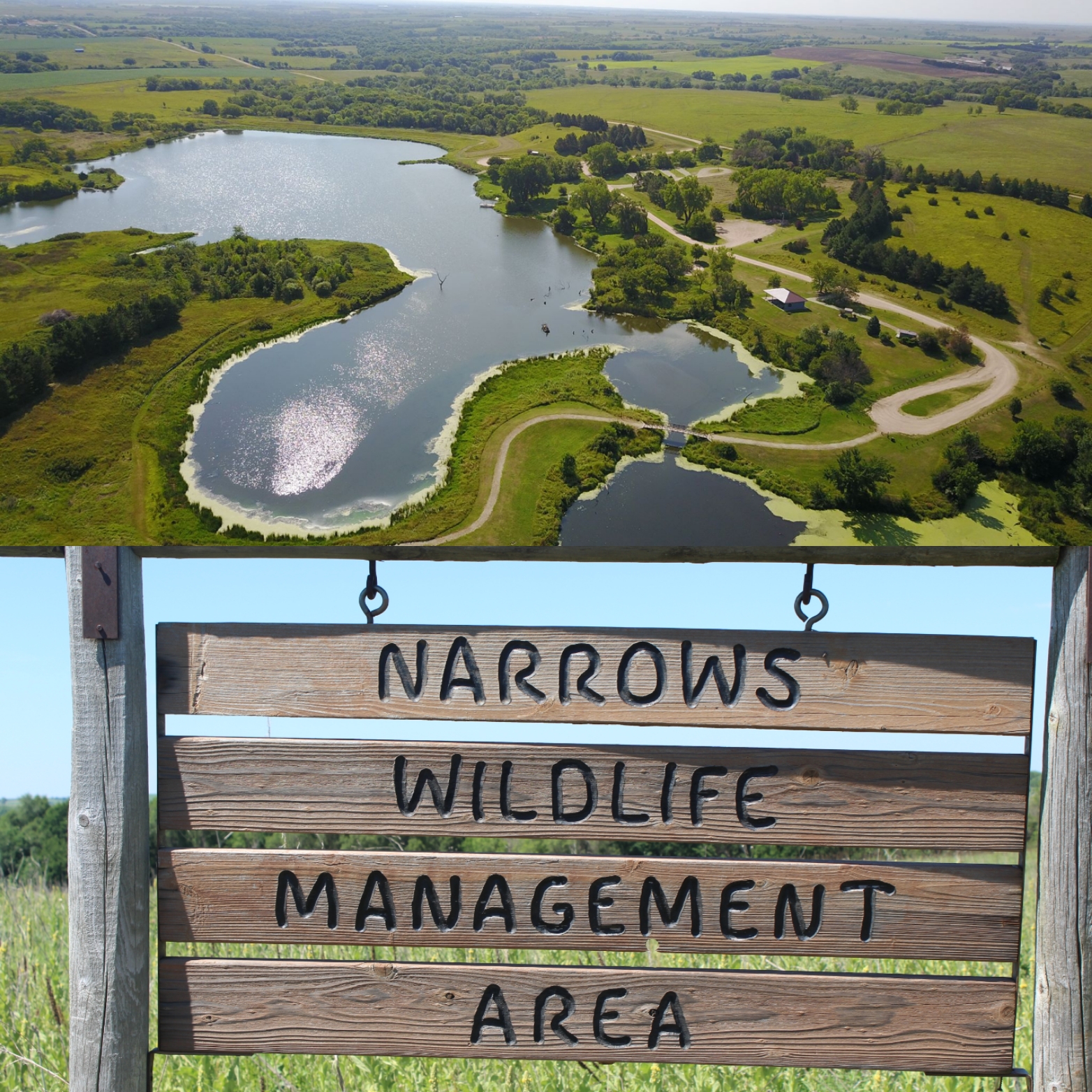 Red Cloud has no shortage of things to do and see for people who love spending time outdoors. The nearby Liberty Cove Recreation Area (2 miles southwest of Lawrence, NE or about 24 miles northeast of Red Cloud) is a great place to fish and camp while the Indian Creek Wildlife Management Area (WMA) just 1 mile south of Red Cloud along the Republican River features a fishing pond with a handicap accessible dock and public hunting space. The Elm Creek WMA is an excellent area for hunting and to try your luck at trout fishing as it's regularly stocked by the Nebraska Game & Parks Commission. The Narrows WMA, just about 4 miles west of Red Cloud near Inavale, is a great location to access the Republican River. The Diversion Dam along the Republican River is about 10 miles southeast of town near Guide Rock, NE and is a great fishing stop.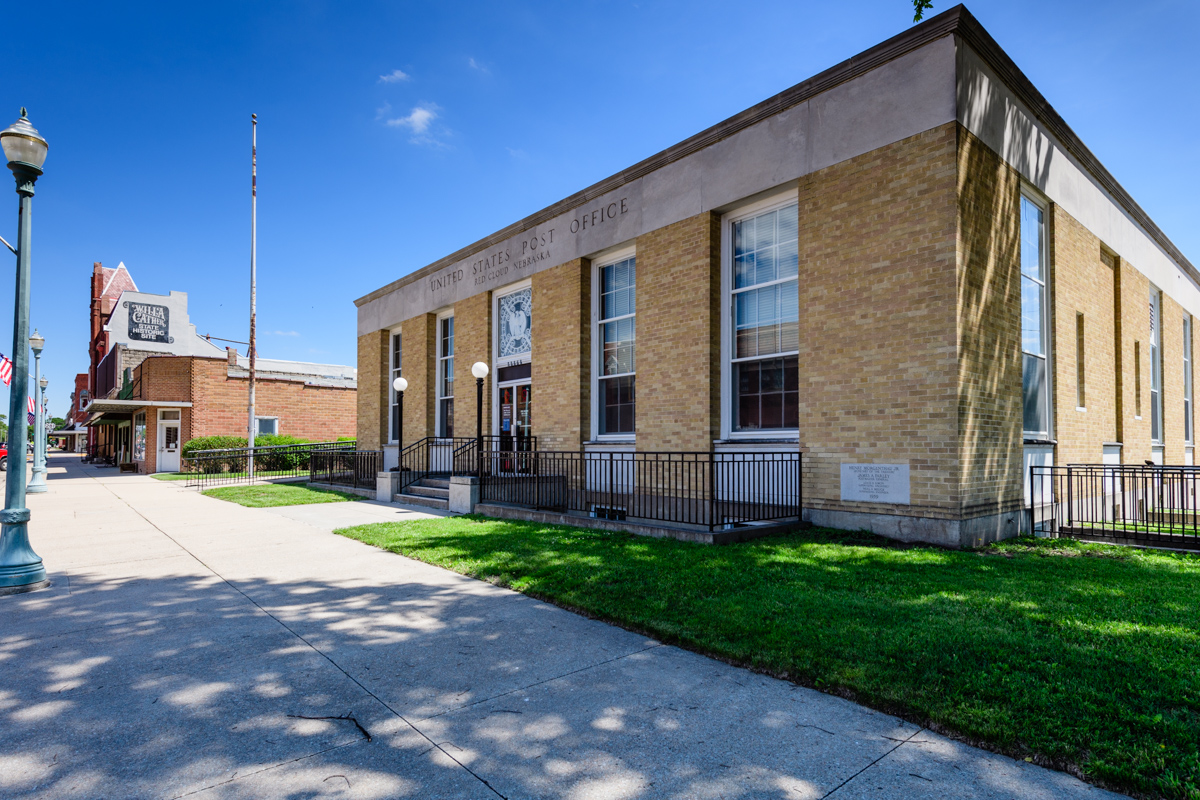 The Red Cloud Post Office is home to three mural panels commissioned as WPA projects. Archie Musick, who studied under Thomas Hart Benton and Boardman Robinson, is the artist who was awarded this project. He aimed to explain through these paintings — "Loading Cattle," "Stockade Builders," and "Moving Westward" — the advent of white settlement, the movement of Native American tribes to the west, and the thriving industry of cattlemen. The post office itself is also an attraction and is a great example of Depression era design.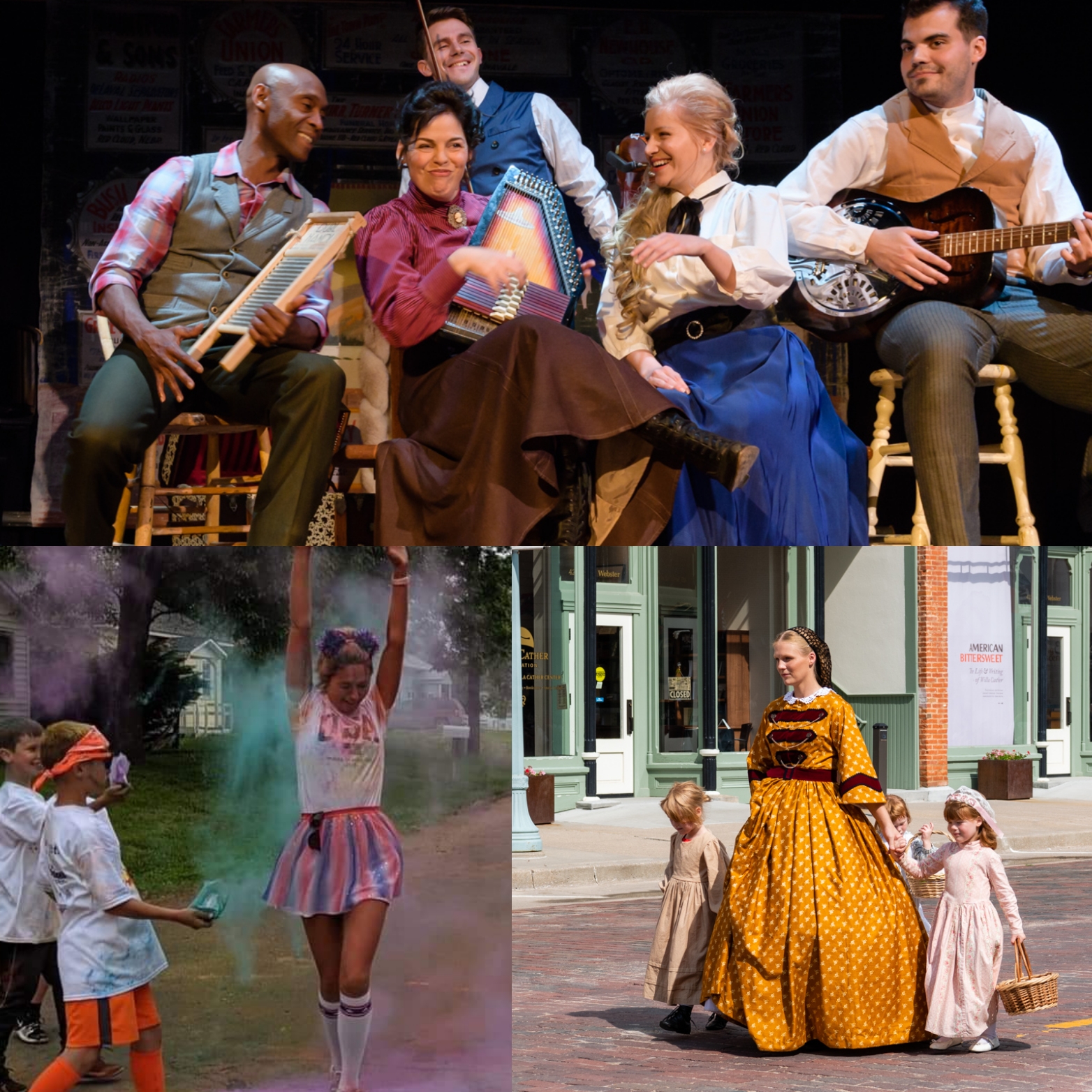 Red Cloud's signature events are for everyone, not just Cather enthusiasts, locals, and graduates of the local high school. The Alumni Weekend occurs every Memorial Day weekend and while it is centered around high school reunions, the town is abuzz with plenty to do thanks to events like the RC Color Run, lunch at the Starke Round Barn, and an annual Putt-Putt Fundraiser organized by the Athletic Association. The annual Spring Willa Cather Conference has been happening since 1955 and brings in Cather scholars and ethusiasts from around the world to discuss the finer points of Cather's writings and experience old fashioned rural hospitality and cultural events like plays and musical theatre performances as well as speeches from renknowned thinkers and writers (past speakers include: Laura Bush, Maya Angelou, Alex Ross, David McCullough, and Richard Norton Smith). Street Car Days is the first full weekend of August and is a time when the entire community and friends from around the nation gather together for one last summer bash and includes fun things to do for the entire family, including Children's Theatre, a Warrior 5K Obstacle Course, a parade, a pancake breakfast at the airport, and a beer garden and cornhole tournament.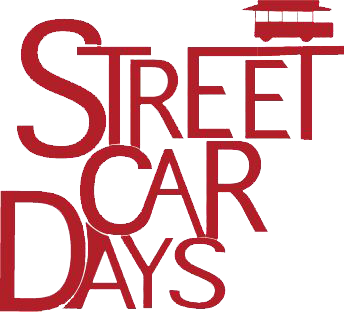 First full weekend of August every year! (Aug. 5-7 in 2022!)
Photo Credits: Jarrod McCartney, Robert Olsen, Shannon Schriner, Nebraska Tourism Commission, Linda Brinda, Jeff Haller, and the Little Blue River Natural Resources District