Willa Cather Spring Conference
Willa Cather Spring Conference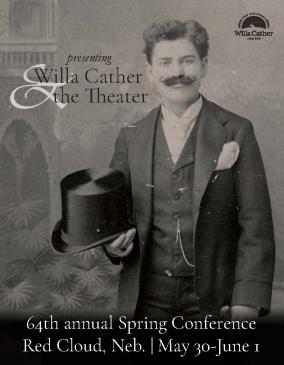 May 30, 2019

to

June 1, 2019
The 64th Annual Willa Cather Spring Conference will take place from Thursday, May 30th through Saturday, June 1st in Red Cloud.
Join us in Red Cloud, Nebraska, for this year's Spring Conference as we explore Willa Cather's relation to the theater—from her early experiences on the stage to her early career as a critic, from her own early fictional depictions of the theater to modern theaterical stagings of Cather's work and life! This year's conference will dig into Cather's own thoughts on theatrical performance and give us new insights into how that translates into her own literary artistry. We hope you'll find this event a fun and fascinating dive in to Cather's theatrical world!
FEATURED GUESTS INCLUDE:
L. Kent Wolgamott is an entertainment, music, and arts critic at the Lincoln Journal Star in Lincoln, Nebraska, a role that he has filled for more than 34 years. Like Cather, he grew up in a small Nebraska town before attending the University of Nebraska-Lincoln and beginning a career in arts criticism. At the 2018 Mayor's Arts Awards, given by the Lincoln Arts Council, Wolgamott was honored for artistic achievement in the literary arts for his coverage of the Lincoln arts scene.
Ron Hull is a member of the Willa Cather National Statuary Hall Selection Committee and served on the Willa Cather Foundation Board of Governors for 36 years. His 39-year career with Nebraska Educational Television and the national Corporation for Public Broadcasting in Washington, D.C., is legendary. Hull joined NETV in 1954, becoming program manager in 1955, and may be best known for building appreciation of Nebraska literature through his programming at NETV in the 1960s. Hull's memoir, Backstage: Stories from My Life in Public Television, recounts his many television exploits.
Julia Hinson is a freelance director and teaching artist originally from Hastings, Nebraska. Hinson has a BFA in Theatre Performance from the University of Memphis, a MA in Theater from the University of Nebraska at Omaha, and a MFA in Directing from East 15 Acting school in London. Her directing credits include Eric Hermannson's Soul (KC Fringe, Edinburgh) her adaptation of Philip K. Dick's The Skull (Three Branch Festival- London), and OH/Pioneers (Red Cloud Opera House).
CONFERENCE SCHEDULE
THURSDAY, MAY 30
3:30 Special event!
Celebrate the homecoming of the Willa Cather Pioneer Memorial Collection
6:30 Burlington Depot Social with food vendors, cocktails, and entertainment
FRIDAY, MAY 31
9:00 Scholarship presentations and student essays
10:30 Arts in Education panel with Patsy Koch Johns,
Lois Goosic, Pam Vap & students
12:00 Conference lunch
1:30 Special guest speaker, Ron Hull of NET Television
2:45 Cather Takes the Stage panel with playwrights
Julia Hinson, A.P. Andrews, and Bonnie Morris
4:00 Special guest speaker, L. Kent Wolgamott
of the Lincoln Journal Star
5:30 Artists' Reception
7:30 Conference dinner
SATURDAY, JUNE 1
8:00 Coffee and kolache
8:30 Service at Grace Episcopal with handbell music by Bell-issimo!
10:00 "The Passing Show" panel with
Mark Robison, L Kent Wolgamott, Patsy Koch Johns
12:00 Lunch on your own
1:30 Wait, Wait... Don't Oversell Me!, a comedy panel quiz show
from the criticism of Willa Cather
3:00 Camille screening & discussion
OR
Reader's Theater at Red Cloud's historic sites
6:30 Spring Conference banquet and A Little Pleasure,
a new work, adapted for the stage by Julia Hinson
from Cather's short fiction, criticism, and biography