Community Foundation Hosts 13th Annual Banquet
Community Foundation Hosts 13th Annual Banquet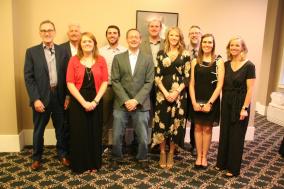 The Red Cloud Community Foundation Fund (RCCFF) hosted its 13th annual banquet on Friday, May 24th on the Red Cloud Opera House and celebrated 24 years of giving back to Red Cloud. State Senator Adam Morfeld gave the keynote speech and covered topics ranging from the impact of high quality child development programs on communities to the importance of developing tourism across the state, to erasing the perceived divide between urban and rural parts of the state. Morfeld also spoke about the importance of building a culture of philanthropy in a community. In addition to representing the 46th District (northeast Lincoln), Morfeld is the Founder and Executive Director of Civic Nebraska, a non-profit whose purpose is to create a more modern and robust democracy for all Nebraskans.
During the course of the evening, RCCFF recognized the invaluable contributions of former Chair and current Treasurer Dennis Hansen, celebrated the successful completion of the Rural Development Philanthropy (RDP) Challenge, discussed the continued success and development of The Valley Child Development Center, and reviewed the work completed at the Indian Creek Pond Wildlife Management which was completed in large part due to the efforts of donor Keith Brown and supporter Merle Illian. Vice Chair Danny Benge discussed what attracted him and wife Valarie Illian Benge to town and to purchase Hometown Market, and scholarship recipients Julia Shipman, Mary Nibbe, Ashley McCleary, and Brianna Danehey were recognized. Chair Ashley Olson pointed out that the organization now has over $1 million in assets and, thanks to the RDP Challenge, will be able to grow their endowment from around $590K presently to over $1 million in 20 years while being able to grant out over $711K in the same time period (assuming normal rates of market return). Olson also noted the addition of new member Kim Ely and RCCFF's goal of starting a Youth version of the committee before discussing RCCFF's successful and fun 5K fundraisers. Finally, Jarrod McCartney revealed the latest architectural renderings of the proposed Hotel Garber and made announcements about that project's progress.
If you would like to support RCCFF's work, please mail a contribution to RCCFF, PO Box 263, Red Cloud, NE 68970. Donations of any size are sincerely welcomed and the suggested donation for a 2019 Annual Membership is $100 or more. RCCFF is a Fund Affiliated Community (FAC) of the Nebraska Community Foundation.