Red Cloud Wins 2018 Governor's Showcase Community Award
Red Cloud Wins 2018 Governor's Showcase Community Award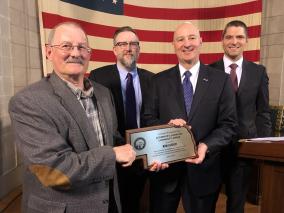 LINCOLN--Governor Pete Ricketts held a proclamation ceremony to kick off Nebraska's celebration of National Community Development Week, celebrated this year from April 2nd-6th.
"During Community Development Week, we acknowledge the hardworking people across our state who have devoted their time and energy to projects that positively impact their communities," said Governor Ricketts. "These public-private partnerships and tremendous community support work together to help build a great quality of life as we grow our state."
Community Development Week (CDW) occurs each year across the United States to celebrate the impacts of community-building programs such as the Community Development Block Grant (CDBG) and HOME Investment Partnerships programs. During CDW, Governor Ricketts and other state leaders take time to recognize the people and projects that have enhanced the quality of life in communities throughout Nebraska.
Following the proclamation by Governor Ricketts, Nebraska Department of Economic Development (DED) Director Dave Rippe presented the city of Red Cloud with this year's Governor's Showcase Community Award. The award recognizes a CDBG non-entitlement community for its outstanding achievements in community and economic development over a five-year period...READ MORE